Today, the first "GRADUATION CEREMONY" of ABENO JAPANESE LANGUAGE SCHOOL has been held. The students came to school by wearing AOJAI in Admission Ceremony, but one of the resident of Sumiyoshi Ward requested to wear kimono and help to arrange a kimono for students for Graduation ceremony. So, the students have been participated by wearing the Kimono in graduation ceremony. It was very wonderful and beautiful. Because of the corona, the new studying students could not attend the graduation ceremony. But we made a chance to take a photo together by entering each classroom. Everybody took off the mask and stop talking for a while when the memorable photo has been taken. It's better to take a photo by laughing everybody.
CONGRATULATIONS FOR GRADUATION! !!
This time we couldn't celebrate the GRADUATION PARTY with the students. That's why, we made them to take a lunch box away and eat at home ♡
We would like hearty congratulation for all the students who got COE for April Intake 2021 from Abeno Japanese Language School. And, we are so happy to announce that most of the applicants got COE.

So, we are also opening admission for October Intake 2021.


Please contact by mail
as soon as possible.
First come First chance.
February 12th is the Lunar New Year in Asia. We are sorry to say that we can't have a party and celebration this time. The setsubun is just finished and decorated the OHINA SAMA. We made excellence in the office. Valentine's Day on February 14th is Sunday this time. So, we celebrated by distribution the chocolates to all the students today. Happy New Year for everyone! Don't make a party!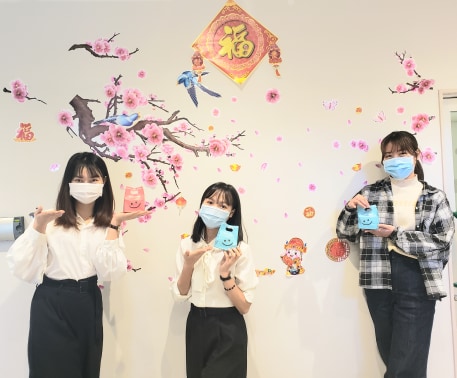 Nagai Botanical Garden is about 8 minutes by bicycle from the Abeno Japanese Language school. Nemophila and Peony were in full bloom. We can keep peace mind during this Corona when we go there. Men's clothes have been distributed to the students. There are also four good fit and fine suits sets which can also use during the Interview and the students were very happy after receiving it.
The cherry blossoms have been just finished and the new semester has been begun.

Today, we decorated "May Doll" and "Carp Streamer". May 5th is a boy's festival.

The decoration of "Carp Streamer" has been come from the Chinese story "`koi-gyo chōryū-mon' ". In Japan, it means "Climbing a Carp waterfall,"and pray for new baby boy in this day.

Hoa anh đào đã tàn dần và học kỳ mới đã bắt đầu. Hôm nay mình trang trí "Búp bê tháng 5" và "Cá chép hóa rồng". Mùng 5 tháng 5 là ngày hội của bé trai.

Trang trí của "Cá chép hóa rồng" từ truyện "`koi-gyo chōryū-mon' của Trung Quốc. Ở Nhật Bản, nó có nghĩa là "Leo thác cá chép", và tôi hy vọng rằng các bé trai sẽ thành công.